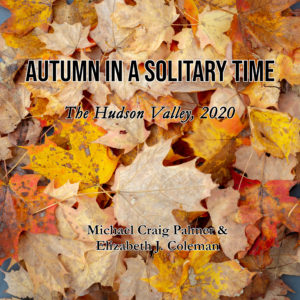 By Michael Craig Palmer & Elizabeth J. Coleman
In the fall of 2020, when most of us were home-bound, isolated and fearful, photographer Michael Craig Palmer took pictures of the glorious fall shades of trees and leaves in a few of the parks, public gardens and preserves in and around the Hudson Valley. Later he asked poet Elizabeth J. Coleman to find words for his photographs. This resulted in a collaboration of words and images between two strangers that became Autumn in a Solitary Time, the Hudson Valley 2020. This book is a celebration of the astonishing and enduring beauty of nature, as well as a celebration of connection in a solitary time.
---
Worldwide Marketplaces
Americas: USA, Canada, Mexico, Brazil
Europe: Germany, UK, France, Italy, Spain, Netherlands
Asia-Pacific: Japan, Australia, India
---
About the Authors
Michael Craig Palmer is a photographer who has explored the architectural legacy of the German Jewish exodus from Germany in the 1920s and 1930s. At the beginning of the COVID-19 pandemic in March 2020, he was unable to continue with architectural projects. Luckily, in September 2020, he was invited to join the Hudson Valley camera excursions hosted by the noted photographer Jade Doskow of Peekskill, New York. The trees and bushes of the Hudson Valley seemed to respond to the pandemic with the greatest autumn color show of recent memory, as if to lift our hearts from the terrible toll of COVID in the New York region, the country and the world. The stimulating criticism and support of Jade and the other participants in the weekly excursions nourished autumn creativity in the midst of deadly pandemic. As the Hudson Valley pulled up its autumn blanket of color, bedding down for the snow and cold of January and February, Michael assembled these pictures, this statement of life's continuity from season to season, year to year.
Elizabeth J. Coleman is editor of Here: Poems for the Planet (Copper Canyon Press, 2019) (featuring a foreword from His Holiness the Dalai Lama and an activist guide by the Union of Concerned Scientists). She is the author of two poetry collections from Spuyten Duyvil Press (Proof, finalist for the University of Wisconsin Press prizes, and The Fifth Generation), and two chapbooks. She translated the sonnet collection, Pythagore, Amoureux into French (Folded Word Press, 2016). Her poems appear in numerous journals, including Baltimore Review, Bellevue Literary Review, Colorado Review, and Rattle, and in several anthologies, including, most recently, Tree Lines: Twenty-First Century American Poems (Barber J., J. Greenbaum, F. Marchant eds., Grayson Books, April 2, 2022). Elizabeth's new full-length poetry collection was a finalist for the Cider Press Review Poetry Prize and the Marsh Hawk Poetry Prize. Elizabeth lives in Manhattan and in the Catskill Forest Preserve, New York.