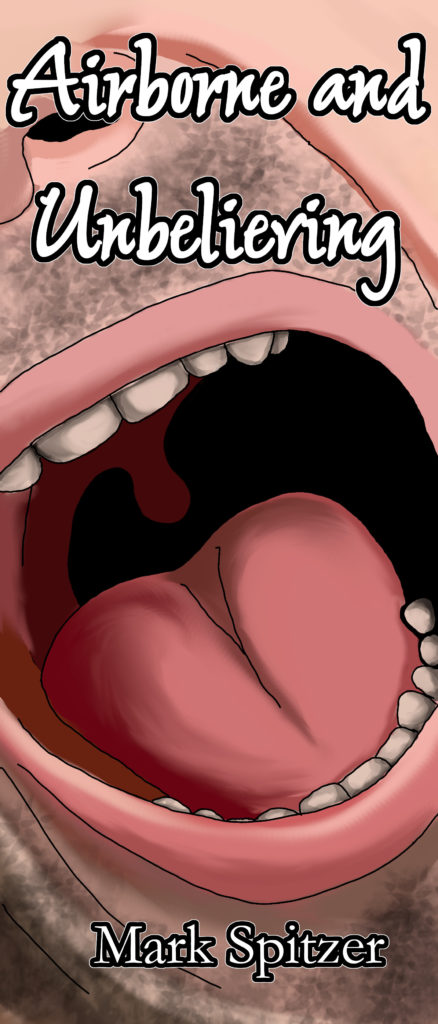 Poetry by Mark Spitzer
Airborne and Unbelieving is an atom-smashing reactor-reaction from the quirky fission and edgy fusion of Mark Spitzer's imagination. These new, narrative nanoparticles of stupid youth combusting with drug abuse radiate with bad parenting and delusions.
Endemic to pandemic, this full-length poetry collection is an innovative supercollider of circus freaks, adolescent spelunkery, dirty old geezers, and bogus motivational speakers that offers a humorous half-life to consider at the moment we're all slitting our wrists; Spitzer, however, makes lemonade from the toxic waste of 2020. Whether Spitzer is crashing out in the Hampton Inn parking lot or flinging turtles, this visionary verse slaps a new spin on racism, mass shootings, dependence on plastic, the martyrdom of privileged criminality, and the denial that all this supposed safety could get smeared away in a moment's notice.
This knee-slapping, action-packed, acrobatic package of explosive attitude is Fukushima Hot!
---
Worldwide Marketplaces
Americas: USA, Canada, Mexico, Brazil
Europe: Germany, UK, France, Italy, Spain, Netherlands
Asia-Pacific: Japan, Australia, India
---
About the Poet
Mark Spitzer is the author of over thirty-one books ranging from environmental nonfiction to novels to literary translations to collections of poetry and writing pedagogy. Specific publications include Monster Fishing the World and Back (Torrey House), Investigative Creative Writing (Equinox Publishing) and Poetry Land (Salmon Press). Mark had been a professor of creative writing at Truman State University and the University of Central Arkansas who searched for amphibians and wild fungi in the mountains of the Mid-Hudson Valley. Mark died January 2023 after a brief battle with cancer.