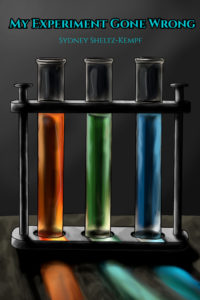 Poetry by Sydney Sheltz-Kempf
Delve into the mind of a woman working her way toward a PhD. Audience Askew's latest chapbook, My Experiment Gone Wrong, ventures into the author's internal struggles while navigating the treacherous landscape of higher academia. Topics of sexism, morality, questioning the status quo, and more are explored within this collection of eighteen poems brought to you by Sydney Sheltz-Kempf.
---
Worldwide Marketplaces
Americas: USA, Canada, Mexico, Brazil
Europe: Germany, UK, France, Italy, Spain, Netherlands
Asia-Pacific: Japan, Australia, India
---
About the Poet
Sydney Sheltz-Kempf began writing poetry to cope with the stress of her PhD program. She currently resides in Michigan and works as a medical writer to support her interests in poetry and Narrative Medicine. Previous work can be found in Intima: Journal of Narrative Medicine, Sonder Midwest, Atlas + Alice, Dying Dahlia Review, Hilltop Review, and elsewhere. Her first chapbook titled, Adding Up Forever: A Memoir, was published by the Poet's Haven in 2018.