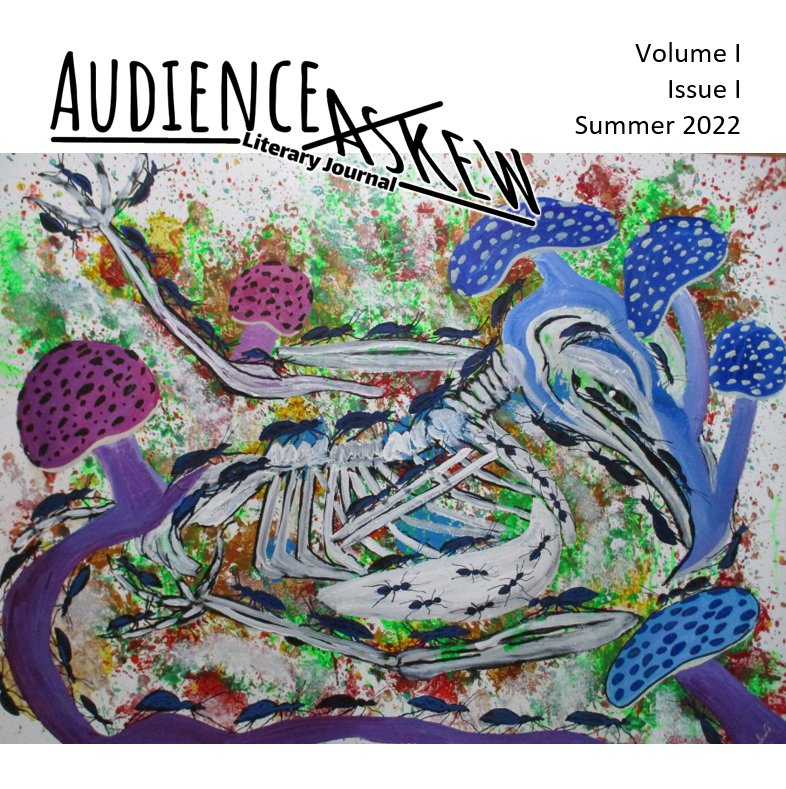 Authors, poets, and artists featured in this issue…
---
Short story:
Don't be a Stranger
Alan Keith is a substitute teacher working out of Toronto, Canada. He tries to keep his writing honest by only writing about what he sees, but if he's being (really) honest, he actually makes a lot of it up. Alan has printed two short story collections and a novel; they sit anonymously on his bookshelf… A poetry collection is his next project. When Alan isn't writing, he's either walking his blind Miniature Pinscher, riding his bike, or drinking tea with his girlfriend. To comment on Alan's work, whether good or bad, use writeralankeith@gmail.com.
---
Alexey Adonin explores the point of convergence between abstraction and surrealism to create a channel of communication between his inner world and the viewers, not only to share his personal vision but also and especially to invite viewers to elaborate their personal interpretations and narratives, establishing deep involvement both in the emotional aspect and in the intellectual one. Raised in Eastern Europe, Belarus, Alexey's thirst for mysticism and love for art has been evident from a young age. Today based in Jerusalem, Alexey has exhibited locally and internationally. His works have also been acquired by notable private collections worldwide.
---
Short story:
Convergent, Concurrent, Contemporaneous
Andy Betz has tutored and taught in excess of 40 years. He lives in 1974 and has been married for 29 years. His works are found everywhere a search engine operates.
---
Poem:
Carolina Will One Day Dance in Fading Rockies
Dan Wagner is a poet born, raised, and based in Burlington, Vermont. The themes of Wagner's poetry circle around the natural world, and its relation to our collective human memory, informed by the beauty and isolation that a Vermont upbringing provides. As of Graduating Champlain College in Spring 2022, Wagner has been writing poetry now for 8 months.
---
Poem:
Solo with Vodka Tonic
Dani Kuntz is a recent graduate of Hendrix College in Conway, Arkansas, where she studied English-Creative Writing. She enjoys hiking, playing video games, listening to true crime podcasts, and being vulnerable. Using her poetry, she hopes to achieve a sense of empathy with readers.
---
Artwork:
Abstract Portrait 5.1.2022
Hanna Wright is a self-taught folk artist residing in Keavy, Kentucky. She uses her experiences from growing up in rural South-Eastern Kentucky, teaching special education classes, and living with obsessive compulsive disorder to inspire her unique works of art. Hanna Wright uses bold lines and bright colors to create abstract figures with relatable and deeply emotional expressions.
---
Artwork:
Her Eyes Watching Gods
H.I. Suell is a student at Millsaps College studying English Literature and Anthropology. She has been published in numerous literary journals – most recently 'In Parenthesis'– and has been a feature in the art exhibition for PSYCHE science-based art gallery. She has won a national gold key for her photography from the Scholastic Art and Writing Competition alongside an award for her writing portfolio.
---
Short story:
Lonely by the Hearthstone
Jules Vasquez is nonbinary, queer, an abuse survivor, thrives with a mood disorder, and proud. Their first novel, Plague City, won the Kenneth Patchen Award for the Innovative Novel from the Journal of Experimental Fiction (2019). Their chapbooks include Fallout, Saints and Dirty Pictures (little m press, 2009), Yet Wave (the Lune, 2017), and they co-authored No Titles in the Bounds and The Smoke Bar with Nat 1. They're head editor for the micro-magazine (now on hiatus) HockSpitSlurp. They've been published lots but don't namedrop. They enjoy noise/drone music, cheap takeout, B-rated gangster/scifi flicks, and long walks off short piers.
---
Leslie D. Soule is a fantasy author who recently completed her Fallenwood Chronicles 4-book series. She holds an M.A. from National University, and is a citizen journalist. She has two books of poetry, My Mentor, Death, and Falling Through The World, available from Terror House.
---
Poem:
Since Sappho is Gone
Olivia Lee is a poet, novelist, playwright, and English professor. She has published two novels. Her poetry has been published in DoveTales—Writing for Peace, Sonnets for Shakespeare, Haunted Waters Press, Wild Roof Journal, HerStry, and the Closed Eye Open, among others. Her play, In Emma Rendell's Attic, had a pre-pandemic stage reading. She is committed to social justice work and supporting Fair Trade companies. She enjoys books, art, travel, listening to music, walking in the woods, and spending time with her sister, Suzie, and their two dogs, George MacDonald and Keeper Lee.
---
RC deWinter's poetry is widely anthologized, notably in New York City Haiku (NY Times, 2/2017), Now We Heal: An Anthology of Hope (Wellworth Publishing, 12/2020), easing the edges: a collection of everyday miracles (Patrick Heath Public Library of Boerne, 11/2021,) The Connecticut Shakespeare Festival Anthology (River Bend Bookshop Press, 12/2021). Inprint: 2River, Event Magazine, Gargoyle Magazine, Genre Urban Arts, Meat For Tea: The Valley Review, the minnesota review, Night Picnic Journal, Plainsongs, Prairie Schooner, Ogham Stone, San AntonioReview, Southword, Twelve Mile Review, Yellow Arrow Journal, The York Literary Review among others and appears in numerous online literary journals.
---
Cover art:
Death Breathes Life that Nurtures Death
Artwork:
Jellyfish
Serge Lecomte was born in Belgium. He emigrated to Brooklyn in 1960. After graduating high school, he became a medic in the Air Force. He earned a Ph.D. from Vanderbilt University in Russian Literature, worked as a Green Beret language instructor, and received a B.A. in Spanish Literature from the University of Alaska where he taught from 1978-1997. He built houses, worked as a pipe-fitter, orderly, landscaper, driller, bartender. He is also a published poet, novelist, playwright and artist.
---
Steve Gerson, an Emeritus English Professor from a Midwestern college, writes poetry and flash about life's dissonance. He's proud to have published in Panoplyzine, Route 7, Poets Reading the News, Crack the Spine, Decadent Review, Underwood Press, Dillydoun Review, In Parentheses, Vermilion, and more, plus his chapbook Once Planed Straight: Poetry of the Prairies from Spartan Press.
---
Tamara Nasution (she/her) was born and raised in small town in Indonesia. She has been writing since her preteen years and has several pieces of her works selected for publication, including for a poem contest organized by the ASEAN. Her writings are mostly derived from her personal experiences; she often writes about what it is like to be queer among a heteronormative society. When she's not writing, Tamara works full-time in a nonprofit focusing on children. You can catch more of her on her social medias:
---
The West Isle Virus was most recently witnessed as Emmitt Smith's dancing partner on Dancing with the Stars. His paintings and his poetry are of the Absurd Impressionist school.