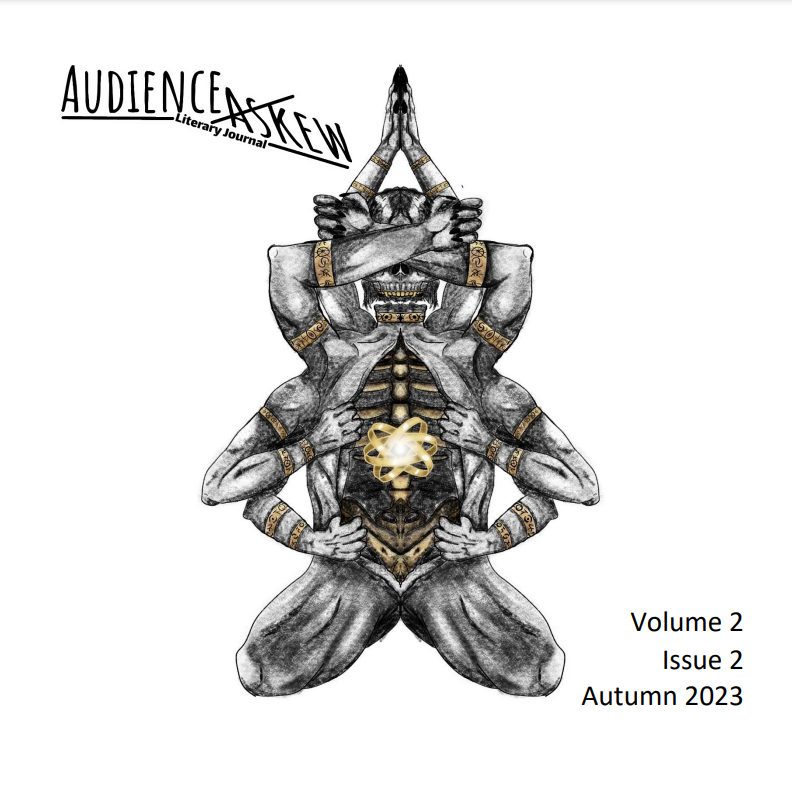 Authors, poets, and artists featured in this issue…
---
Ann Howells edited Illya's Honey for eighteen years. Recent books are: So Long As We Speak Their Names (Kelsay Books, 2019) and Painting the Pinwheel Sky (Assure Press, 2020). Chapbooks include: Black Crow in Flight, Editor's Choice in Main Street Rag's 2007 competition and Softly Beating Wings, 2017 William D. Barney Chapbook Competition winner (Blackbead Books). Her work appears in small press and university publications including Plainsongs, Schuylkill Valley Journal, and San Pedro River Review.
---
Cal Tripp is an illustrator and musician with a passion for bringing ideas to life. Whether through visual arts or music, they are constantly exploring new forms of expression. As a 3D modeler and printer, they bring their creations to life in a tangible way. Outside of the apartment she is equally at home in nature. Cal also has a green thumb, nurturing her plants and using them to make delicious teas or fragrant oils. With two cats and a dog, Cal is a devoted pet parent and values the importance of strong connections and deep friendships.
---
Carolyn Watson is an interdisciplinary artist, who is drawn to the useless and unusual. She takes what she can find to tell a story, using a mixture of unconventional materials. Through her art, Watson strives to advocate and educate, particularly focusing on concepts such as identity, trauma, abstraction, chaos and conservation.
---
Donald Patten is an artist from Belfast, Maine. He is currently a senior in the Bachelor of Fine Arts program at the University of Maine. As an artist, he produces oil paintings and graphic novels. Artworks of his have been exhibited in galleries across the Mid-Coast region of Maine.
---
Poem:
How to Write an Apocalypse Poem
Ed McManis is a writer, editor, erstwhile Head of School, and father. His work has appeared in more than 60 publications, including The Blue Road Reader, California Quarterly, Cathexis, Narrative, Lascaux Review, NMW, etc. He, along with his wife, Linda, have published esteemed author Joanne Greenberg's (I Never Promised You a Rose Garden) latest novel, Jubilee Year. Little known trivia fact: he holds the outdoor free-throw record at Camp Santa Maria: 67 in a row.
---
Edward Michael Supranowicz is the grandson of Irish and Russian/Ukrainian immigrants. He grew up on a small farm in Appalachia. He has a grad background in painting and printmaking. Some of his artwork has recently or will soon appear in Fish Food, Streetlight, Another Chicago Magazine, The Door Is A Jar, The Phoenix, and The Harvard Advocate. Edward is also a published poet who has been nominated for the Pushcart Prize multiple times.
---
Emerson Little is a digital artist, traversing the worlds of film production and photography. He earned his B.A. in Digital Media Production from Whittier College and is currently working toward his MFA in Creative Photography & Experimental Media at California State University, Fullerton.
---
Hannah Love is a woman with a laptop from Portland, Oregon. When she is not working, she is practicing creative writing and befriending cats. Her latest piece of published fiction can be read at Crow & Cross Keys and you can follow more of her ramblings on social media.
---
Prose:
The Night I Met Little Ottie
J.T. Homesley is an English teacher, writer, actor and farmer currently based in the Piedmont of North Carolina. Here, together with his wife and their 5-year-old son, he cares for a 150-acre tree farm, covered with a herd of dairy goats, a coop full of chickens and an impossible number of gardens. A recent graduate of Lenoir-Rhyne University in Asheville, he holds a Master of Arts in Writing. J.T.'s work has appeared in Adirondack Center for Writing's PoemVillage Installations 2022 and 2023, GreenPrints Magazine, Ghost City Review, the poetry anthology Dreamstones of Summer, and will be featured in the first print edition of A Common Well Journal, in partnership with Whisk(e)y Tit for Fall 2023.
---
Prose:
Safe Upon the Shore
Jennifer Moffatt wrote a novella released by Carnation Books, and has short stories in anthologies from Chicken House Press and Improbable Press. She lives with her family in BC, Canada, and is working on her second novel.
Twitter: @JMoffattWrites
---
Flash Fiction:
The Insult
Katharine McGiffert lives in California in a tiny house with leopard geckos, large ugly newts, a big skink that bites, and a very neurotic dog. Luckily, there are still some people who like her. She is trying to learn to draw and to read French, in spite of getting older and more forgetful by the minute. Ever since a poem she wrote in the fourth grade was published in a Chicago newspaper, she has identified as a writer. And ever since she received a Brownie camera at age six, she has identified as a photographer. She's very friendly, though her feet are always cold.
---
Mark Kaufman was born in North Dakota andcame of age during the 1960s. A champion for gender equality, Mark paints the female figure in sometimes absurd, sometimes haunting locations. Far from creating emotionless family portraits, Mark blends color and imagery to explore themes of mythology, literature and philosophy. A graduate of the Pennsylvania Academy of Fine Arts, Mark's work has been shown at galleries in North Carolina, Delaware, New Jersey and Pennsylvania. He is a member of the Baltimore, Delaware, Pennsylvania and Philadelphia watercolor societies. He chooses watercolor as a medium because it is fluid and serendipitous.
---
Matthew McCain is a published author and fine artist based out of New Hampshire. Three of his novels have reached the top #10 on Amazon Kindle Unlimited and his painting is currently represented at the Bilotta Gallery.
---
Art:
The Mad Rush
Art:
Tourism
Ronald Walker is an artist living in the Sacramento area of California. He works in a style he calls "Suburban Primitive". This style combines his interest in the origins and functions of art along with life in the suburbs. Ron's art has been shown in more than 50 solo exhibits over the years and he holds both an MFA and a MA in painting.
---
Steven Sandage is a poet based in Visalia, California. He began writing poetry in his early teens. Poetry allowed him the freedom to express himself without limits. He is majoring in Creative Writing at Fresno State University. His projected graduation year is 2024.
The poem featured in this issue, "I've Been Waiting," was first published by Poetica on 18 June 2023: http://poetica.substack.com/p/ive-been-waiting
---
Sydney Aerin is a licensed therapist and published poet. She is passionate about mental health education, disability awareness, and equality for all. She lives in Oklahoma City, OK with her two dogs, Lily and Padfoot. You can find more of her work and performance information on her social media.
---
Toshiya Kamei is an Asian writer who takes inspiration from fairy tales, folklore, and mythology. They attempt to reimagine the past, present, and future while shifting between various perspectives and points of view. Many of their characters are outsiders living on the margins of society.
---